Premium Membership – Best Science Medicine Podcast BS without the BS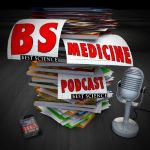 The BS Medicine Podcast episodes are presented by James McCormack and Michael Allan. We try to promote healthy skepticism and critical thinking and most of the podcasts are presented in a case-based approach. We also try to inject some humor into the whole process to make the learning more interesting. Occasionally we have great guests like Mike Kolber, Tina Korownyk, Adrienne Lindblad and many others help us out.
Benefits of a Premium Podcast Membership
Full access to all new podcast episodes: Although 3 out of 4 episodes are released for free, every 4th episode or so is a "New Studies You Need to Know About" podcast and is only available to premium members.
Access to the entire podcast archive: Archived episodes (older than about 1-2 months) are no longer available in the free podcast feed. Premium members have access to all archived episodes dating back to episode #1.
Register for a Premium Membership
A Premium Podcast membership is a $50 per year auto-renewing membership that can be cancelled at any time. Students can sign up for a discounted rate of $25 per year using the discount code "STUDENT".
If you are interested in the book buy it on Amazon, and just email me at james.mccormack@ubc.ca and let me know you purchased it. I'll send you a $10.00 (CA) refund. If you purchase a paperback version I'll also refund you $10. Now that's a delicious deal!
Any organizations, groups, countries, or even mobs that would like to purchase a bulk membership should contact us and we'll work something out.
How to Listen to the Premium Podcast
Once you have purchased a premium membership, click here to see instructions on how to listen to the podcast!